Russian forces launched deadly missile strikes against over 20 cities across Ukraine Oct. 10 as a brutal response to a series of setbacks to President Vladimir Putin's attempts to conquer the country. After seven and a half months of invasion, the Ukrainian people continue to defend their independence and Putin is lashing out from a position of growing weakness.
In the most far-reaching attack since the start of the war, a total of 84 Russian missiles and 24 drones were fired during rush hour at Kyiv, the capital, at Dnipro, Kryvyi Rih, Zaporizhzhia, as well as Lviv in the west. As dozens were killed or injured, people fled to underground shelters. Civilian infrastructure was targeted, knocking out power and water in several cities.
Putin says the bombardment was retaliation for the Oct. 8 explosion on the Kerch Bridge that links Crimea, seized from Ukraine and annexed by Moscow in 2014, with the Russian mainland. He blames Kyiv for the blast. The bridge is the main route supplying weapons and fuel to Moscow's forces that occupy parts of southern Ukraine. It was disabled but has since been partially reopened.
Ukrainian forces have retaken territory in each of the four regions Putin claimed to have annexed Sept. 21.
Despite vastly more soldiers and weapons, Putin's regime finds its military being outfought. Deeply held aspirations to defend their country's independence give Ukrainian forces something worth fighting for, in sharp contrast to the Russian soldiers Putin has dragooned to be used as cannon fodder in his drive to reestablish the czarist prison house of nations.
Ukraine's counteroffensive in the south is going more slowly than in the northeast, where many Russian soldiers fled. But its forces are steadily making their way closer to the southern port of Kherson, the only city under Moscow's control on the western bank of the Dnipro River.
In Donetsk, fierce fighting continued around the city of Bakhmut. Ukrainian forces advanced beyond Lyman, retaking the village of Torske. "When [the Russian soldiers] left, they were running and panicking on the street," Antonina, a pensioner there, told Al Jazeera.
Class struggle in Russia
The war has intensified class inequalities across Russia and has also shone a spotlight on unresolved national questions.
Hundreds of Russian soldiers in Belgorod, outraged at the inhumane conditions they face, protested in an online video. Hastily mobilized near the Ukraine border, they explain that they are forced to sleep on the floor, pay for their own food and equipment and face mistreatment from officers.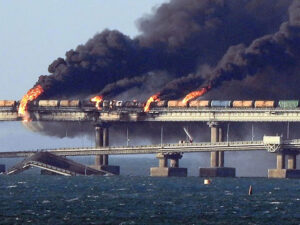 Their protest came after demonstrations across the country against Putin's troop mobilization. Underlying this resistance is widespread opposition among working people to the regime and its war, especially in the most impoverished areas where non-ethnic Russians have long been denied national rights, like in Dagestan and Buryatia. A disproportionate number of the deaths of Russian soldiers are from these oppressed nationalities.
Across Russia more working people are looking for ways to use their power to resist the devastation Putin imposes. The war is stirring working-class struggle that will accelerate as the invasion drags on and the body count rises. It is also spurring efforts by Central Asian countries to get out from under Moscow's domination.
A Ukrainian battalion commander told the New York Times that some Russian soldiers are demoralized, hungry and scared, and ready to give themselves up. But others fought well, he said, and the war is far from over. His battalion has captured 23 Russian soldiers in the course of Kyiv's counteroffensive, providing them with food, water and warm clothes, before turning them over to authorities.
A Ukrainian hotline has received some 2,000 calls about how to surrender from Russian soldiers mobilized for the front or even by their wives, according to Ukraine's Ministry of Defense.
The Kremlin staged sham referendums in occupied territories late last month, declaring these areas part of Russia. Since then, its forces have stepped up the deportation of Ukrainian children and families, targeting people who wear a T-shirt with a Ukrainian flag or those saying they opposed the referendum. Ivan Fedorov, Ukrainian mayor of now Russian-occupied Melitopol, told the Kharkiv Human Rights Protection Group that a woman was deported from the city for not knowing the Russian language.
Cracks are showing within the Kremlin's top echelons alarmed by the disastrous course of the war. Pro-war military and civilian commentators now mention Putin among those they blame for recent setbacks. He has responded by replacing some of his top commanders.
The roots of Putin's regime go back to the Stalinist police-state apparatus and murder machine that dominated the former Soviet Union and crushed all opposition. Today it tries to advance the interests of the country's capitalists. But they've seen their prospects for investment, trade and profit shrink as a consequence of the war, along with Moscow's growing isolation and the impact of the worldwide capitalist economic slowdown.
As many as 700,000 Russians have left the country, heading to Central Asia or Europe since Putin's troop mobilization went into effect Sept. 21. Those fleeing are largely from the middle class and some better-off workers with the resources to pull up stakes and pay the cost of the trip. They leave behind millions of workers who share their hatred toward Putin's regime.