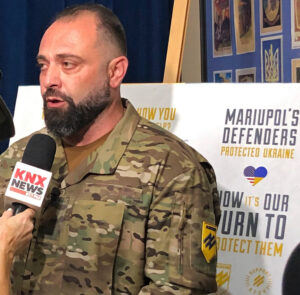 LOS ANGELES — Over 200 people filled the Ukrainian Culture Center here Oct. 5 to hear appeals for help for Ukrainian prisoners of war held by Moscow. Speaking were several members of the Ukrainian armed forces who had been part of the defense during the murderous siege at the Azovstal Steel plant in Mariupol.
Appearing in his military uniform was Lt. Col. Giorgi Kuparashvili, 44, an officer in the Azov regiment, who was evacuated by helicopter after being wounded there. He was joined by two soldiers, also in uniform, who had been held prisoner by the Russian government — Pvt. Artur Lypka, 22, and Pvt. Vladyslav Zhaivoronok, 29, who lost his left leg in the fighting. They were only released recently in a prisoner exchange.
The Ukrainian fighters in Azovstal were the last combatants fighting in defense of Ukrainian sovereignty in Mariupol, as the city was largely destroyed by Moscow's relentless bombardment. "The Russians attacked from the north, from the west and from the sea," said Kuparashvili. "We held off 20,000 Russians and gave time for our forces to regroup around Kyiv." Faced with a situation of no food, no medicine and no way to defend themselves further, the Ukrainian high command ordered them to surrender. "Our main goal now is to get our brothers out," he said, referring to those still in captivity.
"When we were held prisoner we wondered how the Russian prisoners were being treated in Ukraine," said Zhaivoronok. "We were treated very poorly, medical aid was insufficient, food was insufficient. When we were released, I saw the breakfast the Russian prisoners were receiving, and it was more food than we got all day."
"Ukraine is a civilized country," he said. "We adhere to international conventions on treatment of prisoners. Russia signs treaties but doesn't stick to them."
Yuliia Fedosiuk, wife of Arseniy Fedosiuk, an Azov regiment officer who is still being held prisoner by the Russians, also spoke. "I don't know his location, I don't know his condition," she said, appealing for audience members to call representatives of the International Committee of the Red Cross and of the U.S. government to insist that the Red Cross finds a way to check on the conditions of the remaining prisoners.
The four speakers have been on tour to several cities, including San Francisco, San Diego and Washington, D.C.