EAST PALESTINE, Ohio — Throngs of residents here lined Market Street March 18 to cheer the "Jeep Invasion" into this small town. The caravan was organized to help working people and small-business owners recover from the disastrous Feb. 3 Norfolk Southern train derailment, fire and release of toxic chemicals.
Initiated by nurse Terri Graleski from nearby East Liverpool, Jeep clubs from Pennsylvania, Ohio and West Virginia brought more than 100 vehicles with their owners and families to visit the town, bring solidarity to those fighting for control over the rebuilding of the area and support local businesses.
This public support stands in sharp contrast to the siren song of dozens of lawyers who are bombarding area residents with invitations to join their class-action lawsuits by whipping up an atmosphere of hysteria. Worker-correspondents for the Militant, including rail workers, have found many residents skeptical of their doom and gloom claims, but wary of the assurances by company and government officials that they will take care of everything. Many welcome a discussion of what workers and farmers in the area, along with rail workers and our unions, can do to take control over their future and prevent similar profit-driven rail disasters in the future.
"I've seen East Palestine compared to Chernobyl," Jacob Tate told the Militant. Tate came with his wife and daughters in their Jeep from Beaver Falls, Pennsylvania. "The derailment is really bad, these same tracks run right next to my house just a few miles away," he said. "But some people are exaggerating the danger today for their own interests. We came to show our solidarity."
"This show of support is an answer to those who are whipping up the idea that you will get poisoned if you come to town," Sue Dunlap, a self-employed house cleaner, said. "There's a chiropractor here who had to move her operation to another town because patients were scared to come here after the derailment, and my hairdresser had the same experience." Dunlap and her husband, Randy, an International Brotherhood of Electrical Workers member at a nearby factory, drove their Jeep in the caravan. They have lived in East Palestine for 21 years.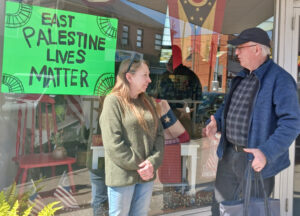 "This means so much to us," said Maggie Guglielmo. "I hear that people are organizing fundraisers to help us out. One church had a fish fry. I say, 'give the money to your parishioners and ask them to come to East Palestine and spend money here.'" Guglielmo has a silicone bracelet-decorating business. Her raw materials absorbed the smell of the chemical burn and she's out of business until she gets Norfolk Southern to pay for the damage.
The night before the Jeep invasion, the Dunlaps attended the grand opening of McKim's Honeyvine and Winery. The venue is 250 yards from where the train derailed. Ashley and Michael McKim have been making wine for several years, starting in the basement of their house. The grand opening of their wine shop had been planned for months. "Groups renting our space for birthdays and parties have been canceling since the derailment," Michael McKim told the Militant in a previous interview.
"The grand opening was packed. People really turned out to support the McKims," Sue Dunlap said.
A few days earlier, farmers from Indiana came to deliver 17 tons of seed, straw, hay, toys and other necessities for livestock and pets to Freedom Ranch, a horse stable north of Salem, Ohio. Ranch owners Kaylee Ball and Chase Brown had opened their facility for animals that had been evacuated from around East Palestine following the derailment and related government evacuation orders.
When what they did was publicized in Farm and Dairy, Lisa Hilbert and Susie Keller in Carmel, Indiana, organized a supplies caravan. "I would hope somebody would do this for my small town if it happened," Hilbert told Farm and Dairy.
They contacted Ball, and she and her husband said they'd be happy to store all the supplies and make sure they got around. A group of Ball's friends, family and other volunteers met the caravan to help get it unloaded and organized.
These mobilizations of solidarity show the potential to unite workers, farmers and small producers in a fight to force the rail bosses and government to clean up the area and provide lifelong health care, under control of those directly affected.
Debate over the road forward
Knocking on doors a few blocks from the derailment site March 15, members of the Socialist Workers Party found a wide range of opinions. Some told us they "trust what the government is doing," but that seemed to be a minority view.
Lon Berresford, a carpenter who lives just south of the tracks, said he and his wife weren't sickened by the chemical release, but heard there were more complaints on the other side of the tracks. Like several neighbors, they said they have no plans to leave. "If you're afraid, you're afraid," he said, "but a lot of people are speculating on this." So far 22 lawsuits have been filed against Norfolk Southern by area residents, and all but one are being consolidated into one big class-action suit.
Berresford had no doubt the railroad cut corners on safety. "All businesses try to make money, so it's no surprise. That's big business." Like several other people we spoke to, he remembered when trains used to have a caboose, with crew members on the end who could respond to problems, like the overheating axle bearing that caused the derailment here.
Just north of the tracks, Kathy Smyth and Mark Thompkins said they and their 10-year-old daughter have all had symptoms since the derailment, including rashes, nose bleeds and severe eye irritation. SWP member David Rosenfeld said, "You can't trust Norfolk Southern, the government regulators and politicians, or the wave of lawyers who've descended on this town."
"That's right," said Smyth, who works two jobs, at a grocery store and a nursing home. "The only people we can trust are each other."
Candace Wagner, a rail worker and member of the Brotherhood of Locomotive Engineers and Trainmen, pointed to the victory residents won in forcing Norfolk Southern bosses to rip up the tracks and remove contaminated soil, ballast and trackage from the area of the derailment. Their initial move was to get the trains rolling as quickly as possible, to start profits rolling again, and minimize the cleanup.
That was a victory, Smyth said, but the railroad-organized project is also kicking up toxic dust. She has visited clinics twice with severe eye irritation since it began. The town government has responded with street sweepers that can be seen on local streets.
Smyth and Thompkins, who work at a nearby factory, were interested in the issues rail workers face. "One of the main issues rail workers were ready to strike over last fall was schedules that make it hard for workers to build their union or have family time," Wagner said. "But the Biden administration and Congress intervened to ban any strike and impose a contract on us."
We discussed the fight needed by rail workers and our unions to control the conditions we work under with Sue Libert, who works as a church secretary. "They need to take better care of the rail workers," Libert said. "I can't believe how they work on call and don't have sick days. And the trains are way too long."
Rail bosses' profit drive
A Feb. 15 CBS News article quoted interviews with Norfolk Southern workers familiar with the train that derailed, who said excessive length and weight were a factor in the scope of the disaster. The train was 149 cars — nearly 2 miles long — and weighed 18,000 tons. "There should be some limitations to the weight and the length of the trains," one worker told CBS. He kept his name anonymous for fear of employer retaliation.
The same article quoted Sarah Feinberg, who served as an administrator in the Federal Railroad Administration from 2015 to 2017. At that time "I was not happy with the lengths of the trains, and they were 80 or 90 cars long," she said. "This train was 50% longer."
All the major rail carriers have cut back on crews carrying out inspections and repairs on tracks and equipment. "There's a good chance the car that derailed had not been properly inspected for some time," Jared Cassity, alternate legislative director for the rail conductors' union SMART-TD, told CBS. He said the railroad wants inspections of freight cars to be done in 60 seconds or less. "You combine that with the added length and tonnage, plus the fact that it had all this hazardous material, and this was predictable. If nothing changes it will happen again."
As if to underscore his point, further derailments have gotten national attention practically every week since the East Palestine disaster.
'We need better information'
"We need to be getting better information," Joy Mascher told me and Tony Lane when we visited her florist shop on Market Street March 16. "Many people around here keep chickens. No one can tell you if it's OK to eat the eggs. It's frightening."
"Yes, it can be frightening," Lane said. "But it's encouraging that there's more labor resistance than in many years. It means it's a good time to organize a response. Rail workers have common interests with workers, farmers and small-business people in this community."
"I think it's crazy the railroads want to have just one person on the train. It's all about the bottom line for them," Mascher said, referring to the bosses' push to implement engineer-only "crews."
"We need a fight by the unions to limit the trains to 50 cars and put crew members on the rear as well as the front," Lane said, "and they should be forced to go slower than 50 miles an hour when passing through towns.
"Committees of working people in the area could demand access to the rail bosses' 'business secrets,' which they try to hide, so we can know what's going on and have a say in what happens," he said.
"They thought we'd just take this, but we won't be quiet," Mascher replied. "There's a lot of people who don't like the media attention here. But we need all we can, so that we can be heard."
Rail workers continue to look for ways to fight. Jakob Forsgren, a track worker and local chair of the Brotherhood of Maintenance of Way Employees in Lincoln, Nebraska, told the Militant the BMWE has called a protest March 24 at 10 a.m. outside the Omaha Berkshire Hathaway headquarters, to highlight issues facing rail workers today. Berkshire Hathaway is owned by Warren Buffett, who also owns the Burlington Northern Santa Fe railroad.
Naomi Craine is a freight conductor and member of SMART-TD. Candace Wagner contributed to this article.