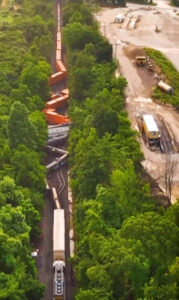 WHITEMARSH, Pa. — Shortly before 5 a.m. on July 17, more than 15 cars on a 40-car CSX freight train, including at least one marked as hazardous, derailed here, 16 miles north of Philadelphia.
This led to the immediate evacuation of 12 houses in the heavily wooded area and local road closures, as a hazmat crew rushed to the scene. The tracks are owned and maintained by Norfolk Southern.
The cause of the derailment? Norfolk Southern officials say the train hit a sinkhole after days of rain and flooding.
Drone camera footage shows tracks mangled and deformed, looking like spaghetti. Other photos show cars scattered on top of the rails.
One of the derailed cars carried tetrachloroethylene, a hazardous chemical used as an industrial degreaser. According to the Centers for Disease Control and Prevention, tetrachloroethylene can affect your health. Breathing it can lead to dizziness or unconsciousness, and it can cause cancer, liver and kidney damage, as well as birth defects.
Authorities were concerned about this. "Everything is contained in the car," Ben Russell, emergency response program coordinator with the Pennsylvania Department of Environmental Protection said, "but it is sitting not like it normally would."
"I don't know much about what caused the derailment," Audrey Jones, a nurse's assistant here, told the Militant near the Whitemarsh Elementary School. "My question is what is being done to prevent the next one?"
"We got off easy as far as I can tell, no toxic material spilled," Russ Brown said at the Flourtown shopping center. "But this is a flood-prone area. Were the tracks checked?"
In the past Norfolk Southern had assigned inspectors to check tracks in flood-plane zones when there were flood watch warnings. Was this procedure followed here? Like other rail companies, Norfolk Southern has eliminated jobs and cut crews, including track workers, in search of higher profits in recent years. In the 20 years since 2002, Norfolk Southern slashed its workforce by 33%.
Rail bosses are trying to shift the responsibility for the derailment onto "climate change."
"Flooding can wash out trail beds, and extreme heat causes rails to swell and tracks to buckle," the American Railroad Association said.
But many area residents are aware of the derailment and ensuing disaster in East Palestine, and see Norfolk Southern as the culprit. Their questions concern what can be done to protect rail workers and the communities they travel through?
What was the central concern for the rail bosses?
"They want to move through this methodically but quickly to keep the commerce moving on that rail line," Whitemarsh Township Police Chief Christopher Ward said.
Norfolk Southern expects the track to be operational July 19, two days after the accident.