PHILADELPHIA — Teamsters at UPS held two "practice pickets" here July 13, part of similar actions across the country in preparation for a potential strike at the end of the month. The package delivery outfit is the largest unionized private employer in the U.S., with over 340,000 Teamsters on the job, including 6,000 in the Philadelphia area.
Several hundred Teamsters Local 623 members demonstrated during the morning shift change at the company's south-city hub, then at the afternoon one at the huge Philadelphia International Airport facility. UNITE HERE members and striking members of the Writers Guild joined the picket in solidarity. Passing drivers honked and shouted support.
The last UPS strike was 26 years ago, lasting more than two weeks.
Tentative agreements reportedly had been reached on some union demands prior to July 5 when the bosses walked out of talks, leaving negotiations between the union and UPS in limbo. These include an end to two-tier pay for drivers; no more forced sixth day of work after a five-day workweek; no subcontracting out work to the U.S. Postal Service; and for Martin Luther King Day as a paid holiday.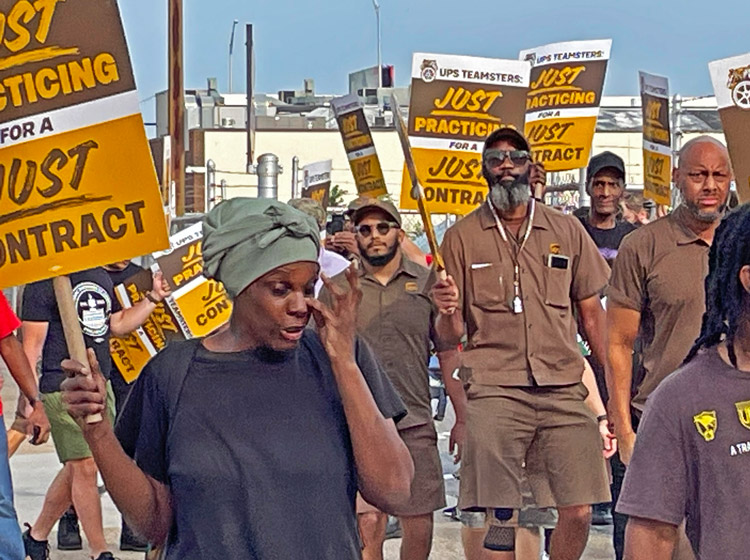 Key outstanding issues include higher wages for all UPS workers, especially part-timers, more full-time jobs, an end to boss harassment, and resolution of safety issues for sorters and loaders.
"We're ready. We need to show we're ready to strike," Local 623 officer Richard Hooker said at both actions. Nationally, the Teamsters voted by 97%  to strike if an agreement isn't reached before the contract runs out July 31.
Contract rally in New York: This is for entire labor movement
NEW HYDE PARK, N.Y. — A couple hundred members of Teamsters Local 804 and supporters came together July 15 for a Contract Unity Rally. "We are on the verge of a tremendous victory or a tremendous fight," Teamsters General President Sean O'Brien told the rally. "We'll get what we want through negotiations, or we'll strike. Either way we will win."
"This isn't just about the Teamsters, it's about the entire labor movement," he said. "There are battles going on all over." This includes strikes at Wabtec in Erie, Pennsylvania; National Tank Car in Ontario; and by the Writers and Screen Actors Guilds nationwide.
He pointed to one of the biggest issues. "In the last two contracts, part timers have been left behind." Not this time, he said. Most part-timers work sorting packages or loading trucks.
Audrey Johnson works part time at the Secaucus Meadowlands Depot in New Jersey. "They only guarantee three and a half hours a day," she said. "So I only work 17 and a half hours a week. Everyone has to work a second or third job to get by." She also works in a cafe.
Phil Rubianes, a UPS driver for two years, described the long hours he works, often starting at 9 a.m. "You have to stay out until all your packages are delivered or it gets to be 11 p.m.," he told the Militant. "The bosses will follow the truck to spy on you."
"I hope we do strike,"  Rubianes said. "Because we'll win big."
— Joanne Kuniansky
and Sara Lobman
UPS workers hold 'practice strike picket' in Ohio
SHARONVILLE, Ohio — For an hour, 50 drivers, members of Teamsters Local 100, conducted a "practice strike picket" outside the UPS warehouse in this Cincinnati suburb July 15 before reporting to work.
Chants included "Harassment must go or we vote no!" and "Just practicing for a just contract."
Jonathan Williams, a driver for five years, told this Militant worker-correspondent how UPS bosses use the "22.4" provision in the last contract to combine jobs, making workers load trucks and then drive the trucks to get more hours.
"I did this for several years and they wouldn't even let me in the warehouse to load," Williams said. "I just drove, but for less money than they pay a full-time driver. This will be gone in this contract."
"When you go back in, tell everybody this is practice now, but Aug. 1 the game will be on if the company doesn't budge," Bill Davis, president of Local 100, told workers.
Last week a practice picket was held at the Gest Street facility in Cincinnati. One is projected in Walton, Kentucky.
A rally in Atlanta July 22 at 10 a.m. at Lakewood Ave. SW will feature Teamsters General President O'Brien.
— Ned Measel
Fight for higher pay for part-time UPS workers a big sticking point
LOUISVILLE, Ky. — About 200 Teamsters Local 89 members held two rallies here in front of the UPS Louisville Centennial and Worldport hubs July 18. Teamsters Secretary-Treasurer Fred Zuckerman, Local 89 President Avral Thompson and other local union officials spoke.
Worldport is the largest UPS facility in the U.S., handling more than 400,000 packages an hour. The vast majority of its 10,000 workers are part time.
"You have to be here 20 years to have enough seniority to go full time," Danielle Saunders, who has worked there for 25 years, told the Militant. "After 25 years most of us make just a little over $20 an hour."
Perri Cole said UPS recently raised pay for new hires from $14.50 an hour to $21 an hour, in an effort to recruit more workers, but the more senior workers didn't get a raise.
"We're demanding higher wages for all part-time workers," Zuckerman said, one of the big sticking points in negotiations. "They have record profits and they tell us they don't have the money to pay workers more."
Charlie Fitz-Gibbons, a 25-year-old part-time worker, said that UPS has been cutting hours. "Two months ago they forced us on a Sunday to Thursday schedule instead of Monday to Friday. Many people go to church on Sundays but they don't care," he said.
"There are more than 100,000 part-time UPS Teamsters making less than $20 per hour," President O'Brien wrote in Newsweek July 17. "Wages for these workers went from $8 an hour in 1982 to just $15.50 today."
— Amy Husk