The over three-week-long revolt of the "gilets jaunes" — yellow vests — has shaken the rulers in France. These are working people and small proprietors from small towns and rural areas who have borne the burden of years of being hit over and over by the effects of today's crisis of capitalist production and trade. 
Backpedaling in hopes of quelling the protests, French President Emmanuel Macron announced Dec. 10 an increase in the minimum wage and the repeal or easing of some taxes on workers and retirees. But many protesters said it was too little, too late. 
"It has been going on for a long time but it's erupting now because Macron thinks we're fools," 75-year-old Daniel Bensept, a yellow vest protester in Troyes, told the Financial Times. "He takes us for people who are worth nothing."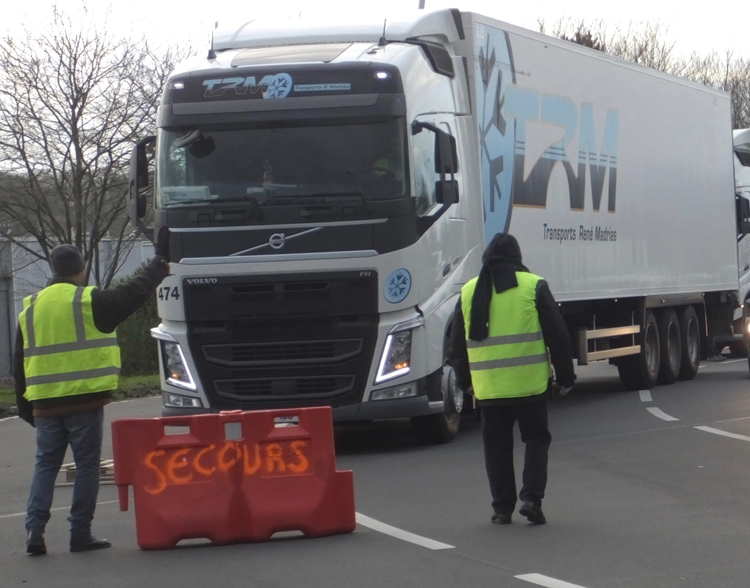 While protests in Paris have been the focus of the big-business media, hundreds of thousands have mobilized in the small towns and countryside. They've camped out at traffic circles, set up road blocks to ask for support and taken over toll booths, letting drivers pass without paying. 
The yellow vests exploded on the scene Nov. 17 in opposition to a new gas tax imposed on top of already rising diesel prices — supposedly aimed at fighting "global warming" by discouraging people from driving their cars. French workers are required by law to keep yellow vests in their cars in case of problems. More than a quarter million joined the protests, blocking traffic in more than 2,000 locations that day. 
For a wealthy Parisian "none of this is an issue, because he doesn't need a car," truck and cab driver Marco Pavan, from Besancon, a small town near the Swiss border, told the Washington Post  Dec. 1. "We live on the side of a mountain. There's no bus or train to take us anywhere. We have to have a car." 
For many, if not most, of the yellow vests, it was the first time they had ever joined a protest. They were incensed that the Macron government hiked the tax on gas, while earlier cutting taxes on the rich. They called Macron the "president of the rich." 
"Why do the little people have to pay, but the big dogs pay nothing?" Pavan said. 
Many workers with jobs say they don't have enough money to take a vacation or even to eat out occasionally. For many, their income runs out before the end of the month. "I am skipping lunch so that my son can eat," Berangere Gabriel, 34, told the Christian Science Monitor. She is unemployed and survives on about $800 a month in government assistance. 
'A moral crisis'
"This crisis is deep and it's not just economic. It's moral," Mathilde Pouzet, a child care worker from Villeneuve-la-Garenne, north of Paris, told The Associated Press Dec. 7. 
While much of the anger is directed at Macron, the yellow vests are disgusted with all capitalist parties and institutions. "I didn't want this completely corrupt political class anymore," Olivier Laurin, 39, a landscaping worker from Montlucon, told the Wall Street Journal. 
The popular movement has no structured leadership or organization. Discussions, debate and acts of solidarity mark the smaller cities and rural areas across the French countryside.
The ruling rich and their meritocratic government think Paris is all that counts in France, so thousands of yellow vests converged on Paris Nov. 24, Dec. 1 and 8, where they were attacked by thousands of cops using tear gas, rubber bullets and water cannons. On Dec. 4 the government announced it was suspending the fuel tax increase. But the yellow vests kept coming. 
Oil refineries were blockaded Dec. 8, shopping centers closed and supply chains disrupted by roadblocks nationwide, as the protests continued to shake the country. The government shut down the Eiffel Tower, the Louvre and a dozen other museums, the city's three main department stores, and the Paris Opera as part of a campaign to violence-bait the yellow vests. Finance Minister Bruno Le Maire called the protests a "catastrophe" for the French economy. 
High school students join in
The protesters' demands have expanded to express their broad disgust with a system that devastates them and their families. The movement has drawn in high school and college students. The main national union federations have opposed the protests, charging falsely they're infiltrated and influenced by the far right. But some local union chapters have joined in the yellow vest actions.
Officials of seven of France's main union federations issued a joint statement Dec. 6 echoing the rulers' baiting of the yellow vests, rejecting "all forms of violence in the expression of demands." Instead, they called for "real social dialogue" in "our country." 
High school students protested at some 300 high schools in support of the yellow vests and against discriminatory education "reforms" introduced by the Macron government. These measures make it harder for working-class and rural students to get into universities. 
A video of 150 high school students from Mantes-la-Jolie, a working-class suburb of Paris, forced by riot police to kneel with hands behind their heads provoked widespread outrage. 
Yellow vest participants all over the country gathered at roadblocks and elsewhere to listen to Macron's Dec. 10 speech. The French president promised the government would fund a 100-euro increase ($114) in the minimum wage per month at the start of the new year; abolish taxes on overtime pay in 2019; "ask" profitable companies to give out a tax-free year-end bonus; and cut a tax hike on small pensions, which he acknowledged was "unjust." 
But the former investment banker never said the words "yellow vest" once in his entire speech. 
The protests continue.