LOS ANGELES — The Los Angeles Unified School District is on a collision course with 34,000 teachers, as their union has set Jan. 10 as the deadline for a new contract or they will go on strike. The district has 640,000 students, the second largest in the country.
Wearing red — the color of teacher strikes and protests last year in West Virginia, Kentucky, Arizona, Colorado, Oklahoma and elsewhere — a sea of thousands of teachers and their supporters joined a March for Public Education here Dec. 15.
One teacher wore a sign saying, "Why strike? 50+ students per class. No full-time nurse. No full-time librarian. Overloaded counselors."
"The school board is offering 6 percent, but with strings attached like extra work. We need school nurses. Right now the district only pays for a nurse one day a week," Daisy Fernandez, a teacher who works coaching and aiding other educators at an elementary school, told the Militant. "Schools have to choose between having the school psychologist there more than one day a week or the school nurse."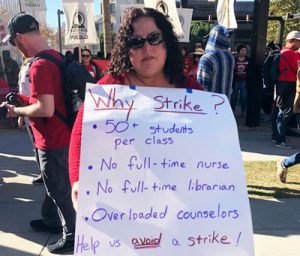 "In high school level classes there are more than 50 students in some classes. Who wants to teach that class?" she added. Cuts in class size, additional funding, a boost in the number of nurses, counselors, social workers and librarians, a 6.5 percent raise with no strings attached, and more accountability for charter schools — which are publicly funded but privately operated — are among the demands United Teachers Los Angeles is making.
"I live in a one-bedroom apartment and the rent has gone up," said Dan Gonzales, who has been a teacher for 22 years and works at Vena Avenue Elementary School in Arleta. "A percentage of every one of my paychecks goes to educational materials. We're asking for a cost-of-living raise. I work during breaks to prepare for class. I have 25 children in my class."
The new school superintendent of the L.A. Unified School District is Austin Beutner, a millionaire former investment banker who served in the Clinton administration and is known for his support for charter schools. He has claimed the district does not have the money for what the teachers are asking.
The schools reopen after the holiday break on Jan. 7. "We have hired substitutes, we have made plans as to alternate curriculums for days that there is a strike," Beutner told the Los Angeles Daily News. He said they've hired 400 nonunion substitutes to keep schools open.
"It is outrageously irresponsible for Supt. Austin Beutner to force this strike when the district holds $1.9 billion in reserves," the union replied in a statement. "It is even more irresponsible to think that 400 substitutes can educate more than 600,000 students."
Meanwhile, union teachers from San Francisco, San Jose, Berkeley, Alameda, Santa Cruz, Oakland and Elk Grove gathered in Oakland Dec. 15 to discuss how to press the state government for more funds for schools.
And teachers in Virginia have called for a #RedForEd march in Richmond, the state capital, Jan. 28 to protest school funding cuts and low wages. The action, set on a Monday, is sponsored by Virginia Educators United.