HAVANA — Algeria is the country of honor at this year's Havana International Book Fair, which opened here Feb. 7. Many of those attending the fair are curious to learn more about the culture and history of that North African nation. To meet this thirst for knowledge, the book fair program includes lectures, film showings, concerts, photo exhibits and a display of 200 works of Algerian literature, including special events at the Algerian pavilion. 
The fair, which has drawn tens of thousands of visitors, will travel to every province over the coming two months. This giant annual festival, a reflection of Cuba's near-universal literacy and culture of reading that begins with the youngest children, is the product of a deep-going socialist revolution. Workers and farmers here took power in 1959, overturned capitalist rule, and transformed social relations as well as themselves — and subsequent generations. 
Speaking at the book fair's opening ceremony, Juan Rodríguez, president of the Cuban Book Institute, welcomed the Algerian delegation headed by Minister of Culture Azzedine Mihoubi, a prominent writer. Rodríguez also devoted part of his remarks to the close relations of mutual support developed between the Cuban and Algerian revolutions in the early 1960s — a history that is not well-known outside Cuba or by younger generations in Cuba today. 
A photo display on "Cuba, Algeria, and the African freedom struggle" is one of the most popular features of the Pathfinder stand here, which carries several books that take up this subject.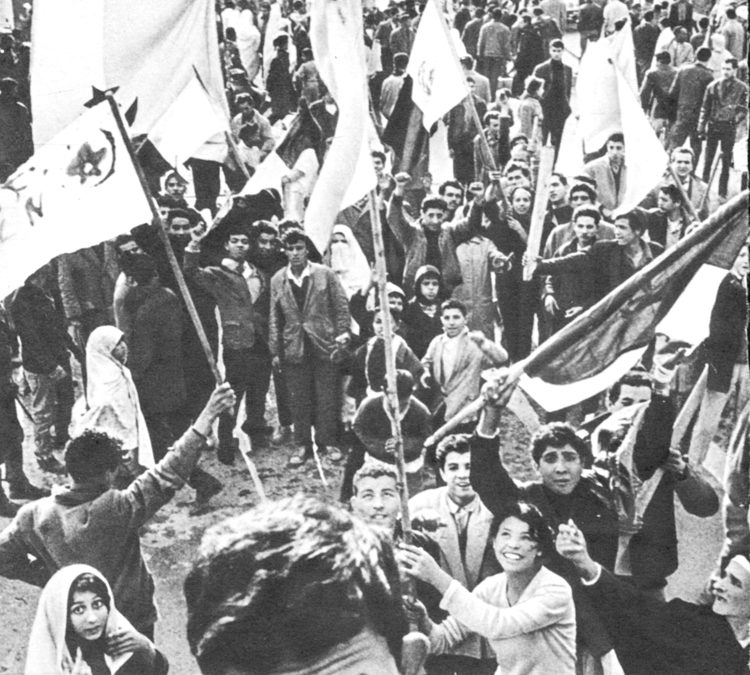 Articles in the Cuban press coverage on the book fair have noted that the revolutionary struggles in Cuba and Algeria — thousands of miles apart — were intensifying simultaneously in the 1950s and early '60s. On July 26, 1953, revolutionaries led by Fidel Castro attacked the Moncada army barracks in Santiago de Cuba, initiating a popular revolutionary war against the Batista dictatorship. They triumphed five and a half years later, on Jan. 1, 1959.
In Algeria, the National Liberation Front (FLN) launched a mass struggle for independence from French colonial rule in 1954. Despite savage repression — more than a million people were killed and 300,000 children orphaned — the Algerian people defeated French imperialism. Independence was declared on July 3, 1962. 
"At the same time that we were fighting in the mountains, the Algerians were fighting in the wilayas [provinces]," said Cuban leader Fidel Castro in a 2001 speech. He was quoted in a Feb. 7 article titled "Something Special Ties Us to Algeria" that appeared in the Cuban daily Granma  on the opening day of the book fair. 
Cuba backs Algeria independence
In June 1961, a year before Algeria won its independence and two years after the revolutionary victory here, Rodríguez explained at the inaugural event of the book fair, "Cuba was the only government in the Western Hemisphere to recognize the provisional government of the Algerian republic." 
Just a few months later, in December 1961, Havana sent a ship loaded with weapons to Algerian independence fighters. The ship returned with 76 wounded FLN combatants and 20 children from refugee camps, mostly war orphans. The Cuban leadership did so knowing this bold action might jeopardize its diplomatic and trade relations with Paris. 
As the popular revolution deepened and Algerian capitalists sought to limit the advances of the toiling classes, a workers and farmers government was established, with FLN leader Ahmed Ben Bella at its head. It organized working people to take steps that increasingly encroached on the power and prerogatives of both the former French colonizers and Algeria's native landlords and capitalists. 
Rodríguez explained that the Algerian government developed strong ties with Cuba. President Ben Bella, he said, "in a gesture of solidarity, visited our country on the eve of the October Crisis," known outside of Cuba as the "Missile Crisis." In October 1962 Washington was preparing to invade Cuba and brought the world to the brink of a nuclear conflict, but was blocked by the mobilization of Cuba's armed workers and farmers. 
Ben Bella had gone to New York to address the United Nations as representative of the newly independent nation. Afterward he had met with U.S. President John F. Kennedy in Washington, who warned him not to visit Cuba. Ignoring the imperial threats, he flew straight to Havana. 
"Algeria wished to emphasize publicly its total solidarity with the Cuban Revolution, especially at this difficult moment," Ben Bella wrote years later, in an article reprinted in Celebrating the Homecoming of Ernesto Che Guevara's Reinforcement Brigade to Cuba  by Pathfinder Press. "We arrived in Cuba on October 16 amid indescribable scenes of popular enthusiasm." He was warmly received by Fidel Castro and other Cuban leaders.
Internationalist Cuban help
Rodríguez noted that Cuba's first volunteer medical mission abroad in its long history of internationalist solidarity "arrived in Algeria in May 1963. They were led by compañero José Ramón Machado Ventura, then minister of public health and today second secretary of the Cuban Communist Party." 
The initial group consisted of 55 doctors, nurses, and technicians. Machado Ventura later remarked, "It was like a beggar offering his help, but we knew the Algerian people needed it even more than we did and that they deserved it." At the time, Cuba's medical resources were severely stretched because half of its 6,000 doctors had emigrated to the United States after 1959. 
Rodríguez added that a few months later, in October 1963, the Algerian government asked for Cuba's help in repelling an invasion by the government of neighboring Morocco. The Moroccan monarchy and the imperialist powers were deeply concerned about the political shock waves of the Algerian Revolution that were spreading in the region. 
The Cuban government responded by sending nearly 700 volunteer combatants to Algeria together with 22 tanks and other military equipment — Cuba's first large-scale internationalist military mission. That action deterred the Moroccan regime, which pulled its troops back from Algerian territory. 
Aid to African freedom struggles
"It's not possible to write the history of these ties of brotherhood without mentioning the active presence in Algeria of the unforgettable Heroic Guerrilla, Ernesto Che Guevara," Rodríguez said. 
Guevara visited Algeria several times. Ben Bella's government collaborated with Che and other Cuban leaders to aid national liberation struggles in Africa, from the Congo to Angola. Algeria became an organizing center for anti-imperialist movements across the continent. The Ben Bella leadership, working closely with Havana, also provided aid to revolutionary groups fighting in Argentina and other South American countries. 
In June 1965 the workers and farmers government headed by Ben Bella was overthrown in a counterrevolutionary coup led by Col. Houari Boumedienne. The coup was publicly denounced by Fidel Castro.  
Over the decades, the Cuban leadership has continued to provide internationalist solidarity to Algeria with no political strings attached, as it has to other nations across Africa and the world. Rodríguez reported that today "900 Cuban doctors and paramedics are serving in four cities in that sister country."