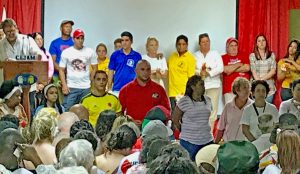 CAIMITO, Cuba—Cuban workers and farmers "achieved liberation not alone, but with the support of millions worldwide," Fernando González, president of the Cuban Institute for Friendship with the Peoples (ICAP), told international participants April 22 at the first gathering of the 14th annual May Day brigade at the Julio Antonio Mello International Camp here. González was one of five Cubans imprisoned in the U.S. for up to 16 years after being framed up in 1998 for collecting information about counterrevolutionary groups operating in South Florida.
Several dozen camp workers — including cooks, servers, cleaners, mechanics, the librarian, nurse, doctor and others — were invited to the stage and introduced, above. Several brigadistas commented they had never seen such an introduction at any event.
Over 300 participants from some 30 countries are taking part in the two-week brigade, including 66 from the U.S., the largest delegation, and sizable contingents from Argentina, Brazil, Chile, Ghana and the United Kingdom.
Brigadistas will take part in volunteer agricultural work over four days; hear and discuss talks by Cuban leaders about developments in Cuba and the fight against Washington's decadeslong attacks; and visit Sancti Spiritus and Trinidad. They will meet residents in Havana hit by a tornado in January, where extensive damage has been repaired by the mobilization of workers and youth.
We will join in the May Day march of hundreds of thousands of Cuban workers, and in an international solidarity conference the next day. Armed with what we learn on the brigade, we'll return home to build support for the Cuban Revolution and to demand: End Washington's criminal embargo and economic war against Cuba! U.S. get out of Guantánamo!