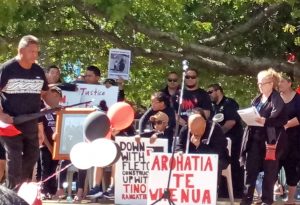 AUCKLAND, New Zealand — In a campaign that has gathered national backing, hundreds of supporters of the fight to protect Maori land rights rallied April 9 at Ihumatao. Protesters presented a petition with 20,000 signatures to Auckland Mayor Phil Goff, calling for halting a planned development by construction giant Fletcher Building. The scheme would mean destruction of areas of rare historical and cultural significance.
"In 1863 our land was confiscated, and our village has suffered the worst effects of colonization," Qiane Matata-Sipu, a founder of Save Our Unique Landscape, told the rally. "This is the birthplace of our history." She appealed for the mayor "to stop the development."
The group has campaigned for years to incorporate the threatened land into an adjacent public reserve. "Local Maori have had continuous settlement of this area for 800 years," Goff acknowledged. In response, he said, the City Council designated Rennie Block, a smaller piece of land nearby, to be part of the reserve. Protesters said  they will continue the fight.