"It's about the solidarity, about everybody sticking together and staying together, outside of that it's community support, labor organization support," Karla Schumann, secretary-treasurer of Teamsters Local 104, said at the picket line outside Asarco's Mission Mine in Sahuarita, Arizona, Dec. 29.
She was speaking at an expanded picket line and dinner attended by 150 strikers and supporters to celebrate the holidays. Gifts to the children of striking copper workers were distributed Dec. 23.
Some 1,700 workers at four Asarco complexes in Arizona and its refinery in Amarillo, Texas, have been on strike since Oct. 13. Solidarity has been key to the workers' determination to continue their fight.
National Teamsters union President James Hoffa joined the strikers at the Dec. 29 activities in Sahuarita. Union members and other workers from around the region continue to bring aid and join the picket lines.
The Asarco bosses imposed their "last, best and final" offer Dec. 2 and have refused any further negotiations since. Their offer included a wage freeze for most workers, freezes in pensions, huge increases in health insurance costs and elimination of protections for union activity on the job.
Due to the strike, Asarco shut down its Amarillo refinery and its smelter in Hayden, Arizona, but has kept up some mining with supervisors, nonunion contractors and over 300 workers who have crossed the picket lines.
The copper giant has now begun advertising on its website to hire mine laborers, haul truck drivers, electricians, mechanics and other workers in a bid to replace striking workers and increase production.
A delegation of five members of United Steelworkers Local 675 in Los Angeles County, including workers from the Phillips 66 oil refinery and the Marathon oil refinery, brought solidarity to the Asarco strikers in Kearny, Arizona, Dec. 21.
"This is a struggle against an international company that operates on both sides of the border," David Campbell, secretary-treasurer of Local 675, who participated in the delegation, told the Militant by phone. "The strikers were appreciative that our local traveled so far to join the picket lines.
'Asarco out to smash union'
"Asarco is out to smash the union," Campbell said. "If the copper miners are smashed, other industries will be encouraged to do likewise."
"We brought $900 from plant gate collections," he reported. "The local itself also contributed $2,000, will continue to contribute $1,000 a month to the strike and hopes to do more." He urged other union locals to follow their example.
Eli Green, a pipefitter at the Marathon oil refinery who was also on the delegation, said, "Most of the $900 we raised came from a morning plant gate collection at Marathon. The balance came from cans located in departments in the refinery. We were out on strike 50 days in 2015. The solidarity we received helped us so much and lifted our spirits."
Mexico City-based Grupo Mexico, which owns Asarco, is the third largest copper mining company in the United States and the fourth largest in the world. The company brags that it produces copper more cheaply than any of its competitors.
Grupo Mexico hopes to keep it that way by busting the unions at Asarco. According to its 2019 third-quarter report, Asarco has been pushing to produce more "with a focus on human capital with the only goal being to recover and construct an operation that is sustainable in the long run."
The company says that it offered pay increases to "skilled workers," about a fourth of the workers. It doesn't mention that this means three-quarters of the workers would have no wage increase, on top of already going without a raise for nearly 10 years.
Any mine or factory worker, whether at U.S. or foreign-owned companies, knows exactly what Asarco bosses are talking about — speedup, cutting corners on safety, and pushing to widen divisions among workers and weaken their unions — all to jack up profits for the bosses.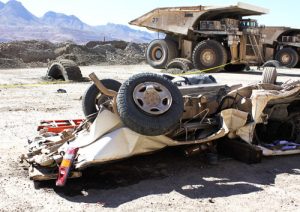 Grupo Mexico and Asarco — just like U.S. mine bosses — are well known for their disregard for the safety of their workers and those who live near their mines. Two Asarco workers were killed after the vehicles they were in were crushed by massive mining vehicles used in the company's open pit mines, one in 2010 and the other in 2017.
In 2012, Asarco received 51 citations for safety violations at its Hayden copper concentrator operation alone, including 15 that were considered "significant and substantial" by the Mine Safety and Health Administration.
In 2014 Grupo Mexico's Buenavista del Cobre mine in Cananea, Mexico, flooded 40,000 cubic meters of toxic copper sulfate into the Sonora and Bacanuchi Rivers, poisoning the land and water.
More solidarity is needed. Spread the word. Strike supporters are encouraged to visit the picket lines. For strikers at the Mission and Silver Bell complexes near Tucson, send contributions to the Pima Area Labor Federation Community Services via paypal.me/palfcommunityservice. Solidarity messages to the strike can be sent via palfchair@gmail.com. For strikers at the Ray Mine and Hayden Smelter, send contributions and messages to USW Local 915, Strike Assistance, P.O. Box 550, Kearny, AZ 85137. For strikers at the Amarillo refinery, send to USW Local 5613, 4230 Texas Hwy 136, Amarillo, TX 79108.