WASHINGTON — "It shouldn't take something like this. We were always 'essential,'" Walmart worker Carlos Branch told the Socialist Workers Party candidates for president and vice president, Alyson Kennedy and Malcolm Jarrett, in the store's parking lot in Capital Plaza here.
"The working class is the essential class. It's our labor that produces everything we use and all the wealth," Kennedy told Branch. "The social crisis battering us today is caused by the capitalist rulers' system, their for-profit system."
The SWP candidates were in the area meeting workers, presenting the party's 2020 platform and helping to win new readers to the Militant and of books by SWP and other revolutionary leaders. The party is on a six-week drive to expand the paper's circulation, as well as win contributions to the $115,000 Militant Fighting Fund.
Supporters of the Militant are talking to co-workers involved in standing up to the bosses on the job, and to workers and farmers in small towns, rural areas and larger cities, as well as to workers in uniform currently deployed to help staff temporary hospitals in New York and elsewhere. The drive ends May 19.
"In face of the deep crisis the bosses have created, with millions thrown out of work and those of us still working facing determined efforts by the bosses to speed up work, sticking together on the job, backing each other up, refusing to allow them to pit us against each other is more important now," Kennedy said.
"This is my first job," Branch said. "With this kind of unemployment, you fear what could happen if you lost your job."
The Socialist Workers Party campaign platform points out the need for workers everywhere to join together, Kennedy said, "to organize to defend themselves, to use union power on behalf of ourselves and all working people."
"Workers face low wages," Branch said, saying he had read that in some countries workers make "$2 a day for making shoes that sell for $100."
"The bosses everywhere fight with everything they have to protect their profits," said Jarrett. "We gain valuable experience as we resist the bosses' attacks. We will learn that workers need our own party, a labor party. We have to rely on ourselves to fight for a workers and farmers government."
Branch got a copy of the Militant, as did 32 other workers from both sides of the cash register that campaigners met at several Walmart store parking lots in the area, along with five new subscribers. They also kicked in $10 to the Militant Fighting Fund.
Every contribution large and small makes a difference. Unlike capitalist newspapers, which depend on advertising revenues, the Militant depends entirely on the support of its readers — workers, farmers, small proprietors and others who reject the "everyone for themselves" morality of capitalism.
Taxi drivers hard hit
At the Fort Totten metro station, taxi driver John Babannds rolled down his window to take the Socialist Workers Party's "Call to Action to Meet Today's Unfolding Crises." He came back to talk, after underlining parts of the flier.
"I put a star here," he said, pointing to the section that described how Walmart workers in Chicago refused to work in a tire and lube pit that was contaminated by raw sewage. "When these workers got confident and rebelled, that's when the boss noticed them, and they won. That's an example for today."
Kennedy agreed. Socialist Workers Party members join their co-workers in defending their jobs and working conditions. They also point the way to overcoming the growing division facing workers today — between employed and unemployed.
"The Socialist Workers Party demands a massive government-funded public works program to put millions back to work at union-scale wages," Kennedy said. "We cannot fight if we are not working. When the bosses open up the economy, they will try to make us pay as they push to rebuild their profits. They are going to try to lower our pay and make us work harder and faster."
"This is something for my union to hear about," said Babannds, a member of the D.C. Taxi Operators Association, affiliated with Teamsters Local 922.
Because of the scope of the government shutdown, the line of cabs wasn't moving. Lawrence Odubiyi told the SWP candidates he expected to make just $30 that day, "if I'm lucky." Trips are down by some 70% in the capital District, but bills for insurance, licensing and registration fees, car payments and gas still hang over the drivers.
"Now is the time for solidarity and for standing up against the bosses — against the panic and social isolation that's pushed on us," said Kennedy.
"Yes, we have to reach out to our neighbors. This is how working people think," Odubiyi told Kennedy. "This is a capitalist country, you can't always count on the government."
Odubiyi said he has "been following what Cuba is doing," referring to the hundreds of Cuban doctors and nurses who have volunteered to join brigades to treat coronavirus patients around the world. "Their doctors are in Italy of their own free will," he said. "That's how they do it in Cuba."
Babannds and Odubiyi, both originally from Nigeria, purchased Militant subscriptions.
'How can we fight the system?'
"How can we fight? The rich people own and control this system," Anderson Simon, a long-haul trucker, asked Jarrett at a truck stop in Millersville, Maryland.
"Look at what our class has accomplished," Jarrett said. "The struggle that toppled Jim Crow was led by Black workers. And look at the revolution by workers and peasants in Cuba that opened the road to socialism in this hemisphere."
"We know the Cubans," said Simon, who is originally from Haiti. "They sent doctors to our country during the earthquake in 2010. They brought young people back to Cuba who wanted to train to become doctors and come back to Haiti to serve the community. The Cubans are in Haiti today, right now, helping out."
Simon subscribed to the Militant and got Malcolm X, Black Liberation, and the Road to Workers Power and Are They Rich Because They're Smart? both by SWP National Secretary Jack Barnes, and We Are Heirs of the World's Revolutions by Thomas Sankara, who led a revolution in Burkina Faso in the 1980s. (See ad on page 7 for special offers during the drive.)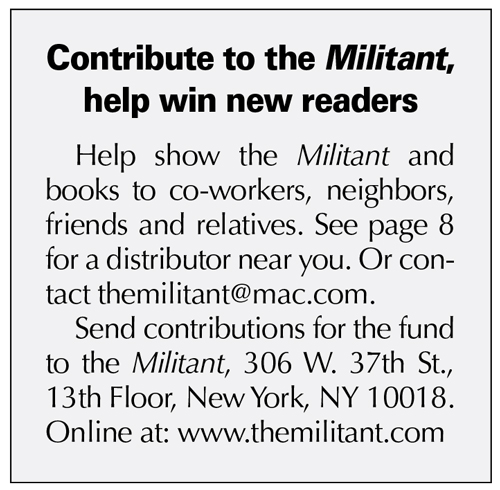 Socialist Workers Party campaigners have met many workers in both Wisconsin and Illinois who have recently been laid off or seen their hours slashed.
"I'm still working, but I know others who aren't," Andrea Gordon, a personal care worker, told SWP campaigner Dan Fein in Milwaukee. "We need jobs that pay good." Gordon was one of five people that day who subscribed to the Militant. She also bought a copy of Malcolm X, Black Liberation, and the Road to Workers Power.
In West Chicago, a small town near Aurora, Illinois, SWP member Naomi Craine met several workers who had been laid off from Jel Sert, a plant that makes desserts and drink mixes. The plant closed after some workers got sick.
Reyes Flores, a member of Service Employees International Union Local 1 at the plant, laughed when asked if the company was paying wages during the shutdown. "No. I had to file for unemployment," he said.
Flores liked the party's call for workers to build their own party, a labor party, independent of the Democrats and Republicans. "It's like in Mexico," he said, "where all the political parties represent the rich."
Flores bought Are They Rich Because They're Smart? and the Spanish edition of In Defense of the US Working Class by SWP leader Mary-Alice Waters.
To join efforts to expand the reach of the SWP and the Militant, or to contribute to the Militant Fighting Fund, contact distributors nearest you.