Members of the Socialist Workers Party have been building on the momentum of the recently concluded successful renewal campaign to introduce the paper and the party's election campaign to workers and farmers at plant gates, strike picket lines, political events and on their doorsteps.
They're making special efforts to meet truckers to discuss the conditions they face and how working people can defend ourselves.
"Fuel prices are high, freight is low. And the shippers and receivers keep us waiting for 13, 14 hours and we don't get paid. I'm for the Canadian truckers," Chris Weber told Eleanor García, SWP candidate for U.S. Senate from California, at a truck stop she visited in Castaic, north of Los Angeles, Feb. 20. Weber, from Minnesota, works for a nonunion trucking company.
García said that farmers are also being squeezed by the capitalist crisis. She pointed to the need for solidarity among all working people. Weber nodded in agreement, describing friends in Wisconsin who lost their farm to foreclosure after working it for five generations.
"We need our own party, a labor party," García said. "We can fight for such a party out of the struggles and experiences we go through on the road to replacing capitalist rule with a workers and farmers government."
"Regulation, that's the main issue. I call it money grabbing," trucker Ernest Mullins told SWP members Susan LaMont and Janice Lynn at a truck stop in Ellenwood, Georgia, Feb. 16. "They increase the number of 'safety blitzes' you have to pay for, then there's the rising cost of diesel and how the brokers continually try to cut the rate truckers get paid." Mullins, who lives in Panama City Beach, Florida, has been driving for 15 years.
"Conditions are getting worse for all workers," LaMont told him, "but some workers are standing up to the bosses' assaults through their unions."
"There's so much government overreach, like trying to force everyone to take the vaccine," said Mullins, who has been following the protests in Canada where truckers and others are demanding an end to government-employer vaccination mandates.
"Government vaccine mandates are an attack on our rights," LaMont said. "But it is important that workers get vaccinated so we can be at work to organize together against attacks on our wages and working conditions." She told Mullins that in Cuba, where working people made a socialist revolution, they have confidence in their government. More than 90% of the population has been vaccinated, without any mandates.
"Only working people ourselves can solve these problems. That's why we need to take power out of the hands of the capitalists," she said.
Mullins bought a copy of the Militant to read more about the struggles of the Canadian truckers.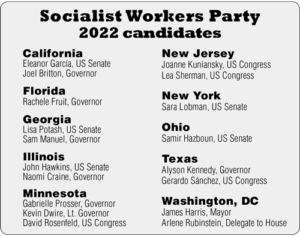 Sara Lobman, SWP candidate for U.S. Senate from New York, and Seth Galinsky spoke to truck drivers at a rest stop near Sloatsburg, New York, Feb. 21.
One driver they spoke to listened carefully when she explained that the SWP says workers should get vaccinated but is opposed to mandates and that workers need to be organized into unions to fight for better conditions.
He said conditions for truckers had deteriorated in the last decade, from when he owned his own trucking company. Now he's considering going back to work at a company organized by the Teamsters union because it has health insurance with no premium.
Companies hire workers as "team drivers," he said. They drive for weeks, nearly 24 hours a day with one driver getting some shut-eye in the small loft in the cab, while the other drives.
After Lobman showed him the back cover of Teamster Rebellion, he bought the four-volume Teamsters series by SWP leader Farrell Dobbs, a central leader of the 1930s truck drivers' strikes that built the industrial-union movement in Minneapolis and the push throughout the Midwest to organize over-the-road drivers.
In Richmond, California, SWP members and supporters joined oil workers picketing outside the Chevron refinery Feb. 17. Organized by United Steelworkers Local 5, the workers are pressing industry representative Marathon Petroleum to agree to wage increases and better conditions. And by picketing now they're showing their readiness to strike.
"The maintenance unit I work at used to have over 80 Chevron employees and now I'm the only one left. The rest are contractors," Tim Grace, with 37 years at the refinery, told SWP member Betsey Stone. Since the contractors are not as well acquainted with the plant, this is a safety issue for the workers as well as for the nearby community.
At these pickets, eight refinery workers have signed up for Militant subscriptions.
Commemoration on lynching
SWP members from Miami attended a commemoration in Ft. Lauderdale Feb. 8 on the lynching of farmhand Rubin Stacy, which took place in that city July 19, 1935. More than 300 people took part in the memorial, including dozens of family members who came from around the country.
Stacy was one of 4,743 people lynched in this country between 1882 and 1968, according to NAACP records. Of the 282 people killed by lynching in Florida, 257 were Black and 25 were white.
"Children growing up now have no idea that these things took place in the past," Pearl Mozie told Rachele Fruit, SWP candidate for governor of Florida. Mozie said her husband had been working on drawing attention to the case for 30 years. "The Militant has been covering the fight for Black rights for almost a century," said Fruit. Mozie signed up for a Militant subscription.
The work party members are doing now sets the stage for the spring international campaign to win new readers to the Militant, expand the circulation of books by revolutionary leaders, and win contributors to the Militant Fighting Fund. If you'd like to get involved contact the nearest SWP branch.