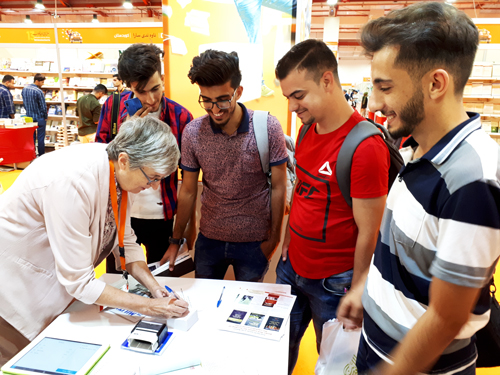 ERBIL, Kurdish Region, Iraq — "Islamic State has been defeated on the ground. Now we are fighting for ideas," said Safwan Al-Madany. He was describing efforts by students, artists and others to bring books, music, concerts, theater and painting to life again in Mosul, Iraq's second-largest city, 50 miles from here.
Al-Madany was one of a group of young people from Mosul — all of whom had lived under the IS reign of terror for three years — who visited the Pathfinder Books stand at the Erbil International Book Fair Oct. 11 and 19. They came to the booth to look at our books and urge us to participate in upcoming cultural events in that city.
After its conquest of Mosul in 2014, Islamic State tore down statues of poets and writers and destroyed works of art and musical instruments. Books were banned, nonreligious art was taboo, and musicians and artists were killed. IS set fire to the Mosul University library, incinerating most of its hundreds of thousands of books.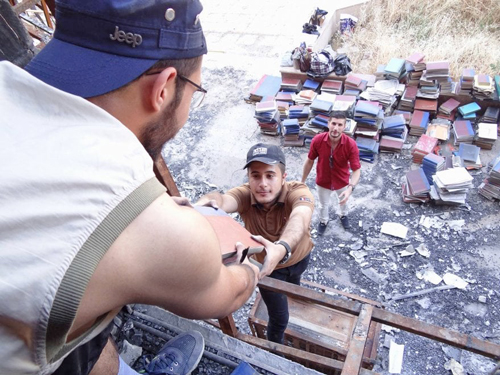 The devastation caused by the reactionary group — followed by widespread destruction as Iraqi and Kurdish forces, backed by U.S. airstrikes, retook the city — resulted in thousands of deaths. One million people fled the fighting. The Old City, sitting on the west bank of the Tigris River, was almost completely destroyed.
In May 2017, as the battle was still raging in the western part of the city, an arts exhibition was staged in eastern Mosul. "Pictures and paintings were exhibited against the blackened remains of a university building to the sounds of long-banned music," reported the German news agency Deutsche Welle.
More cultural festivals have been held in Mosul since, Al-Madany said. These are part of the efforts by working people to rebuild their lives following years of Islamic State tyranny. Thousands of volumes at the university library were rescued by students and other volunteers last year, and many more have been donated from abroad to replenish the shelves.
"Now we have a new idea," Al-Madany said. In November they are planning a festival to raise money for the treatment of children with cancer at East Mosul hospital. For an entry fee of 1,000 dinars, a little less than a U.S. dollar, each participant will get one book donated by supporters of the reconstruction effort. Pathfinder donated 10 books on the last day of the fair.
Islamic State said "they were bringing peace, they were bringing Islam," Al-Madany said. "But it was a lie. How can you fight for peace without knowledge? We want to bring life to Mosul. Not the black color of IS, but all the colors."