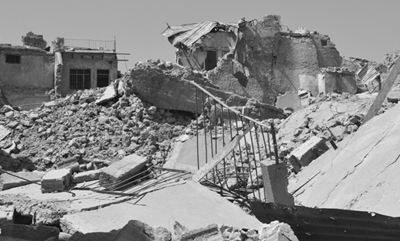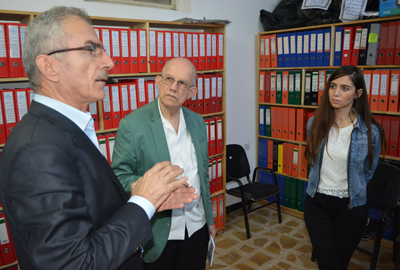 ANKAWA, Kurdistan Region, Iraq — On July 17, 2014, a month after Islamic State's conquest of Mosul, Iraq's second largest city, the terrorist organization ordered "the Evacuation of Christians from the borders of the State of Caliphate no later that Saturday, [July 19, 2014] at 12 noon and after that date there would be only the sword between us and them."
On Aug. 7, Qaraqosh (also known as Baghdedi), Iraq's largest Christian city at the time, fell to IS invaders. Over the summer, IS forces bombed and shelled Christian cities and villages on the Nineveh Plain of northeast Iraq and cut off water, electricity and food supplies. They destroyed neighborhoods and desecrated places of worship.
That year more than 136,000 Chaldean, Assyrian, Armenian and other Christians from Mosul, Qaraqosh and elsewhere on the Nineveh Plain fled on foot to the Kurdistan Region — to Erbil, Ankawa, Duhok and Sulaymaniyah. "Those who remained … were taken as captives and slaves," the Shlomo Organization of Documentation said in their June 2017 annual report. Islamic State imposed a reactionary social nightmare over those three years, and 250 Christians were killed.
During our participation in the 13th Erbil International Book Fair, Catharina Tirsén and this reporter visited Shlomo's headquarters in this Erbil suburb of Ankawa Oct. 20. Like the words "salaam" in Arabic and "shalom" in Hebrew, "shlomo" means "peace" in Aramaic, an ancient language whose modern variants are spoken by small numbers of Christians and Jews in Iraq, Israel and elsewhere in the Middle East.
We visited the center at the invitation of Faris Jejjo, Shlomo's chairman and former Iraqi minister of science and technology. There we met two other founders of the organization, Taher Saeed Maty, its director, and Ranin Taher, its vice president.
Ranin Taher said that Shlomo began its work in 2016, with caravans of volunteers traveling across Kurdistan and elsewhere in Iraq to talk with victims and document crimes against the Christian population. Pointing to a large white board in the office, she explained that 32,814 individuals and 11,584 families had been interviewed. They showed us shelves of color-coded binders of interviews, photographs, and other records that line the walls.
Persecution began in 2003
The persecution actually began in 2003 amid the devastation of the bloody Washington-led invasion of Iraq that toppled the regime of Saddam Hussein. Islamist terror organizations began organizing and carrying out armed assaults there, including against Iraqi Christians.
From then through the end of 2014, 1,107 Christians in Iraq were killed and 114 Christian places of worship attacked, Ranin Taher said.
The March 2008 kidnapping and death of Chaldean Catholic Archbishop Paulos Faraj Rahho in Mosul — following shootings and beheadings of clerics and others the previous two years —received worldwide press coverage. In October 2010 more than 50 worshippers were killed and 60 injured during an Islamist assault on Our Lady of Salvation church in Baghdad.
As families fled from this campaign of terror, Ranin Taher said, the country's Christian population dropped from 1.2 million — out of 39 million people in Iraq — to some 300,000 today.
Shlomo's website says that its mission is to submit the thousands of documents it has compiled "to national and international specialized authorities in order to rehabilitate, compensate and protect the victims, and hold the criminals accountable and prevent the recurrence of such crimes, which amount to a genocide."
Faris Jejjo reminded us of the international campaign carried out by Nadia Murad, a young woman who was herself a victim from another Iraqi religious minority hit by Islamic State slaughter and enslavement, the Yazidis. Telling the truth about what happened is necessary but often difficult, he said.
"Many fear to talk," said Faris Jejjo. "For victims of sexual slavery, there are feelings of shame. This is an important issue of women's rights."